Golowan Festival & Mazey Day 27th June

The Golowan Festival – named for Gol Jowan in the Cornish language meaning "Feast of John" – is a recent revival of an ancient festival celebrated in years gone by to mark the arrival of Midsummer. Originally revived as a project amongst some local schools, helping to bring their heritage to the children of today, this has now become a ten-day celebration of music and the performing arts with venues all over Penzance during the second half of June.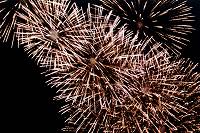 The Festival runs for approximately ten days in late June, with details being available in the Events Diary. The culmination of the Festival is over three days of the weekend around St John's Eve. Summer Fire on the Friday of that weekend is a spectacular fireworks display as a finale to some light-hearted events around the Jubilee Pool on the Promenade.
Mazey Day on the Saturday of that weekend sees the town centre transformed with banners and leafy decorations, the streets closed and street markets, processions and a Serpent Dance featuring walking displays made by the children of many of the local schools in, and around, Penzance. Quay Day on the Sunday is a celebration of the harbour and Penzance's maritime history with visiting boats welcomed and decorated to add to the festive atmosphere, many stalls and street performers around the harbour, and a fair with traditional rides and entertainment.